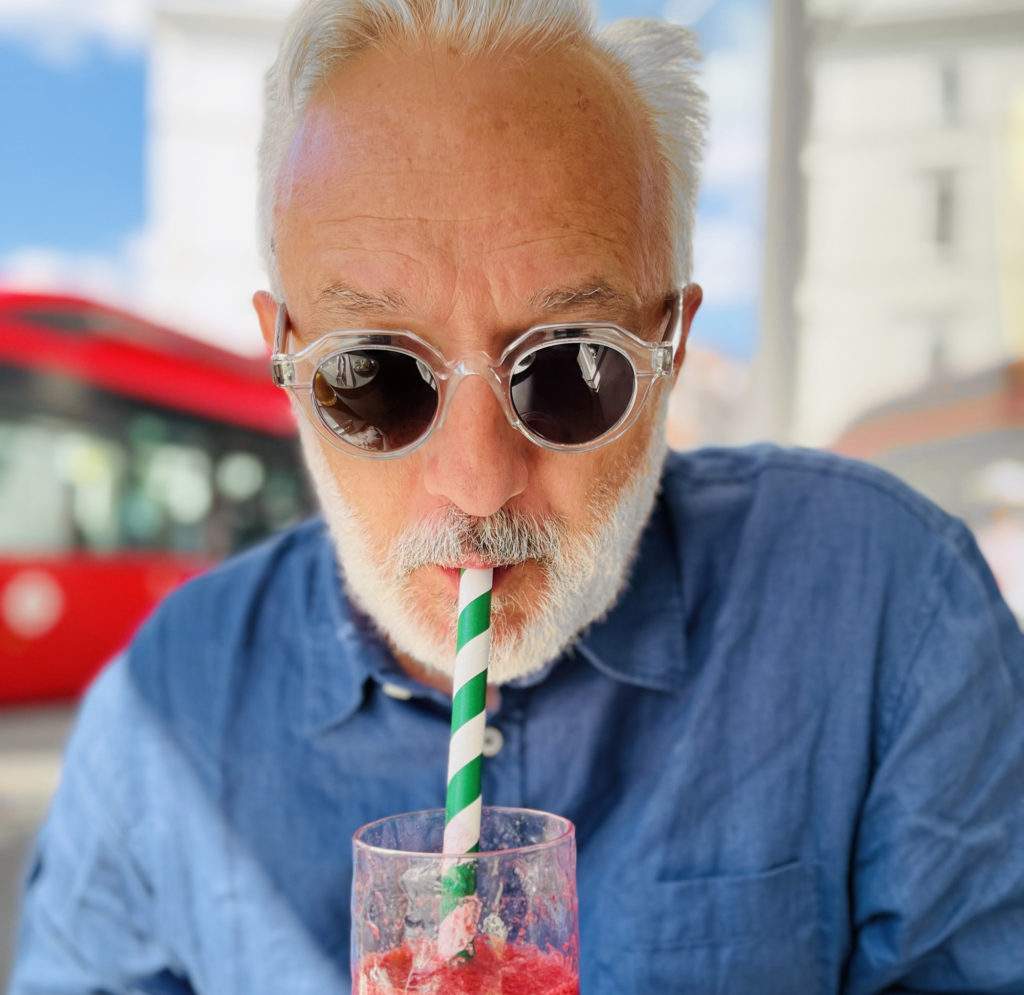 —
Pascal BLUA est directeur artistique et graphiste indépendant. Il vit et travaille à Paris, principalement dans les domaines de l'édition musicale, culturelle et institutionnelle. Il est co-fondateur du label franco-anglais Violette Records et de la "Maison de Musique" December Square.
Le site BLUARTWORK rassemble une sélection de pochettes de disques, d'affiches et de sérigraphies réalisées pour des artistes de la scène musicale indépendante française et internationale.
Je suis né en 1964, l'année où les Beatles et les Rolling Stones ont joué pour la première fois à Paris, mais je ne suis pas certain que mes parents y aient vu un quelconque signe. Le jour de ma naissance, ma mère a soigneusement découpé l'horoscope dans France Soir qui énonçait : « Les enfants nés ce jour auront des prédispositions pour les arts graphiques. »
Quelques années plus tard, bercé entre l'écoute de ces deux groupes anglais (chacun de mes frères essayant de me convaincre que le sien est le meilleur, ma sœur ne jurant que par Charles Aznavour), je découvre le graphisme avec la pochette de l'album des Sex Pistols. La musique explosive, les couleurs exubérantes, les lettres découpées me fascinent…
Un soir, j'annonce fièrement à mes parents que « je veux faire des dessins comme ça plus tard » même si je ne sais pas trop de quoi je parle ! En sortant le fameux petit bout de journal de la boîte où il était précieusement conservé, ma mère annonce alors fièrement à mon père : « Tu vois, c'était écrit… »
—
Pascal BLUA is an independent artistic director and graphic designer. He lives and works in Paris mainly in the fields of music, cultural and institutional publishing. He is co-founder of the French-English label Violette Records and of the "Maison de Musique" December Square.
The BLUARTWORK website presents a selection of album covers, posters and screen prints designed for artists from the independent French and international music scene.
"I was born in 1964 – the year the Beatles and the Rolling Stones first played in Paris – but I'm not sure my parents saw it as a sign. On the day of my birth, my mother carefully cut out the horoscope in France Soir which stated: "Children born this day will have predispositions for the graphic arts. "
A few years later, cradled between alternate listenings to those two English groups (each of my brothers trying to convince me that his is the best, my sister swearing by Charles Aznavour), I discovered the graphics with the cover of the 'Sex Pistols album. The explosive music, the exuberant colors, the cut-out newspaper letters fascinated me. 
One evening, I proudly announced to my parents: "I want to make drawings like this" – even if I didn't really know what I was talking about! 
So when I took out the infamous little piece of newspaper horoscope  from the box where it was preciously kept, my mother proudly announces to my father: "You see, it was written…"
—
3-22 février 2020 / BLUARTWORK
Dans le cadre du festival Hibernarock, l'exposition Bluartwork propose une sélection de pochettes de disques, d'affiches et de sérigraphies. Un livret accompagne les travaux graphiques exposés et rassemble des témoignages d'artistes, de musiciens et de partenaires.
Voir le livret